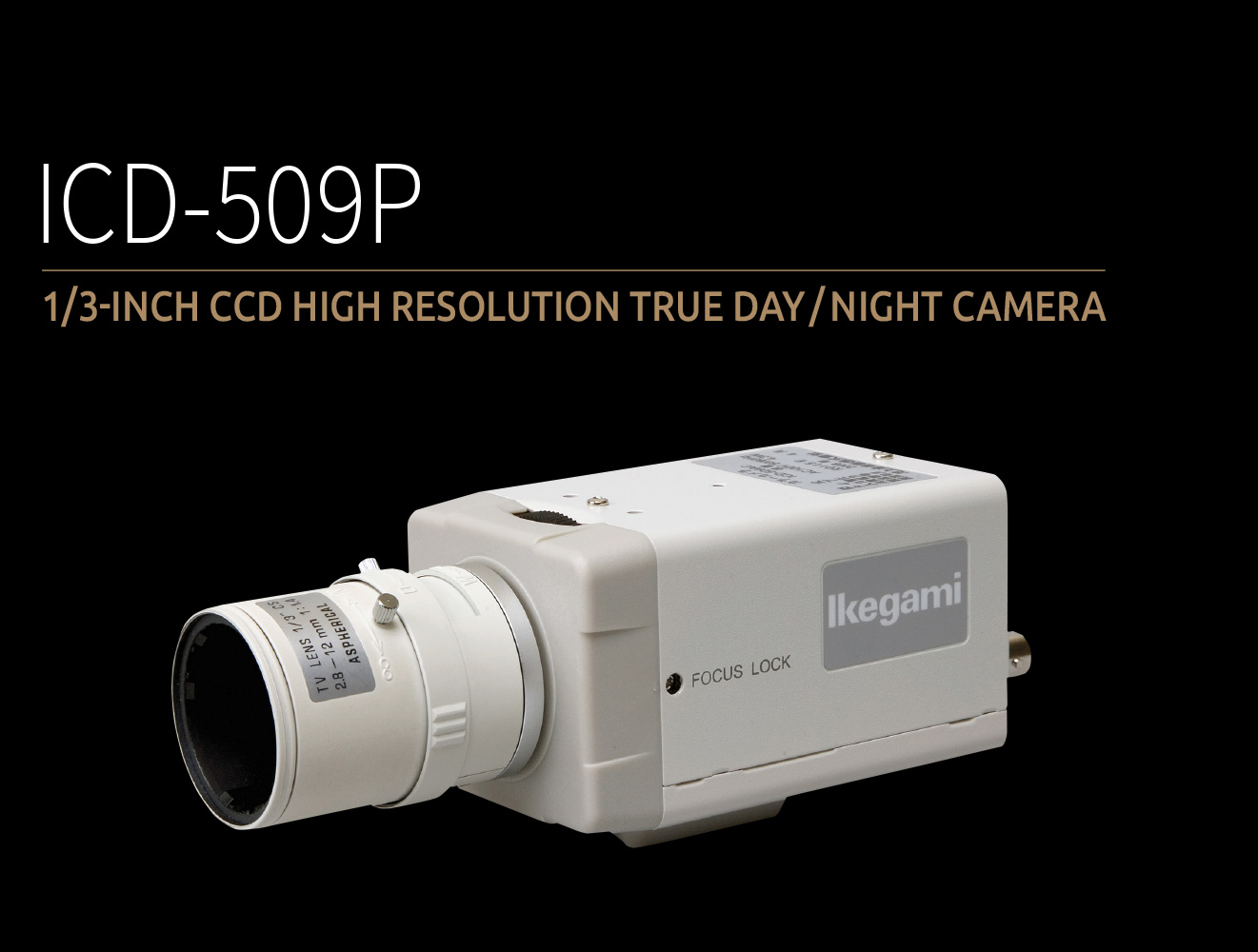 The ICD-509P now comes with higher resolution, a massive 540TVL (colour mode) and 570TVL (Monochrome mode), plus the added benefit of True Day/Night changeover function. This leads to higher sensitivity at low light levels when the camera will automatically switch to a Monochrome output for improved low light performance.
True Day/Night Change-over Function
High Sensitivity and High Resolution
Automatic Electronic Shutter
Back Light Compensation
2-way Automatic Iris Controlling Function
Auto Tracking White Balance
You want further information?
Feel free to contact us.
Service-Hotline: +49 (0) 2131 1230
E-Mail: security@ikegami.de
Contact Form

0.037 LUX, TRUE DAY/NIGHT CHANGE-OVER FUNCTION
Well designed moving IR cut filter system, inter-connected with the Automatic Gain Control system makes the ICD-509P/509 the ideal Day/Night camera, capable of providing a high quality crisp picture reproduction with 570TVL horizontal resolution under ultra low light conditions down to an amazing 0.037lux minimum scene illumination performance.
52DB, HIGH PICTURE QUALITY AND LOW SMEAR AND NOISE
The improved DSP circuit permits more than 52dB* Signal-to-Noise ratio with good performance of -110dB vertical pixel overload protection. (*Conditions: Standard Illumination, Luminance Signal, Detail off)
540/570 TVL, HIGH-RESOLUTION PICTURES
DSP-based detail correction function results in a far sharper image and better Signal-to-Noise ratio. The horizontal resolution is as high as 540TVL in the colour mode and as high as 570TVL in the monochrome mode.
WIDE AUTO WHITE BALANCE
The unit is also provided with automatic tracking white balance control (ATW). Improved tracking colour range can be used under different lighting conditions such as Sodium light.
FOCUS EZ FUNCTION
Just press the button located at the back of the unit, and the auto iris lens aperture will be kept open, even in broad daylight. This ensures that an accurate focus can be set with the best depth of field.
MONITOR SELECTION SWITCH
This switch is to get a proper image by selecting your display device (LCD or CRT).


DOWNLOAD SECURITY CATALOGUE 2017

(918.3 KiB)

DOWNLOAD RATINGS/PERFORMANCE

(213.3 KiB)