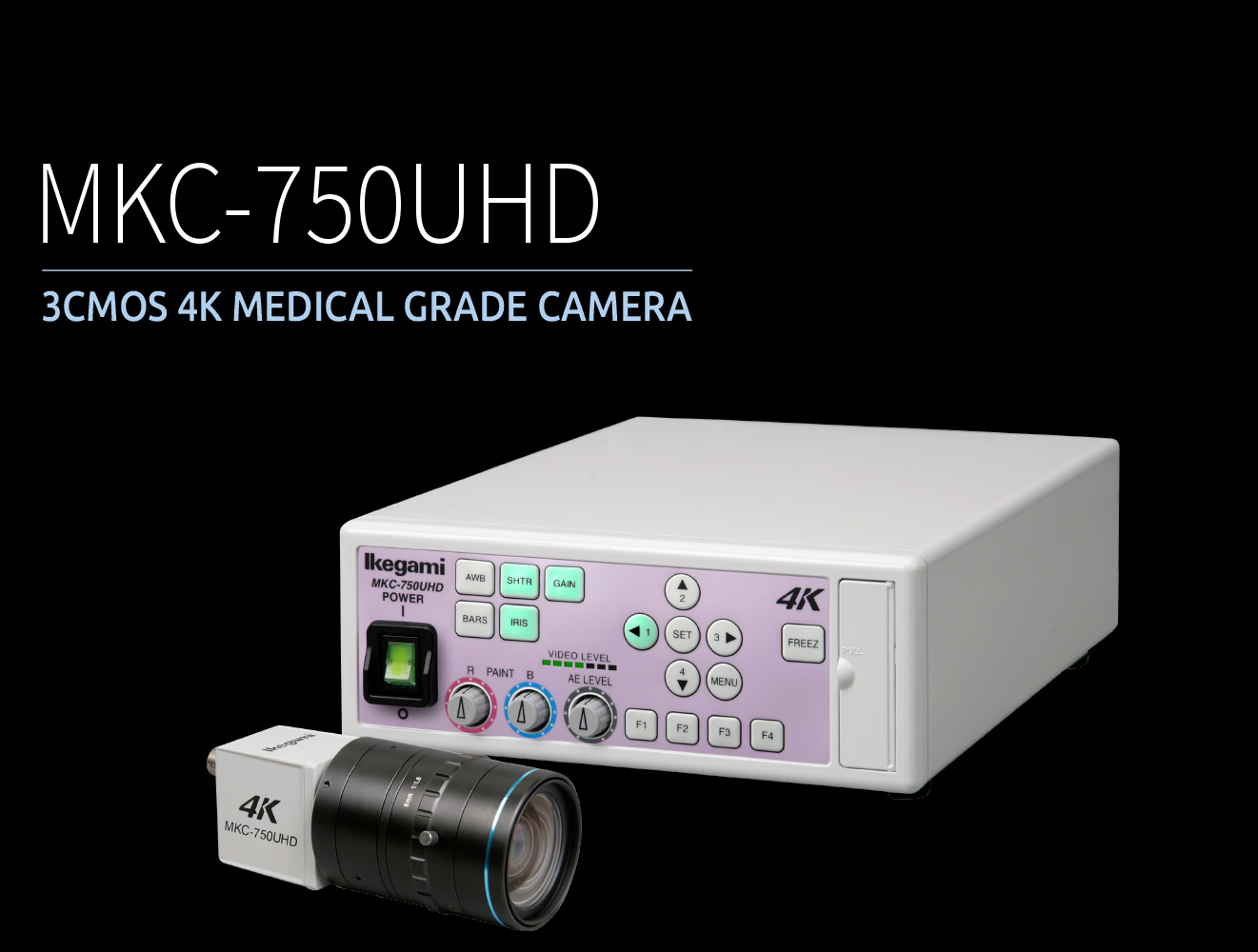 Ikegami has developed Medical Grade 4K Camera MKC-750UHD to be suitable for surgical video operations, Microscopes o Endoscopes. MKC-750UHD is the first developed medical 4K 3 sensors camera from Ikegami. With the latest 3-CMOS and Ultra HD resolution (3840x2160pixels), the MKC-750UHD gives the superb high picture quality. The camera will be avilable for OEM, the camera head, Camera Control Unit and Medical grade cable will be offered as per customer's requierd specifications.
3 Chip CMOS progressive Image Sensor
High Quality 4K image (3840 x 2160 pixels)
Various Video Outputs
Ultra Compact Camera Head: W34 x H40 x D40 mm
OEM Possibility
You want further information?
Feel free to contact us.
Service-Hotline: +49 (0) 2131 1230
E-Mail: medical@ikegami.de
Contact Form

HIGH QUALITY IMAGE OUTPUT
Employs a 1/3-inch 3 CMOS sensor ,Ultra HD resolution (3840x2160pixels) 4K.
NEW DIGITAL PROCESSOR
Progressive processing with newly developed digital engine delivering improved resolution in detail and dynamic resolution.
MIRROR, FLIP AND ROTATE FUNCTION
Digital capture allows a captured image to be flipped horizontally and vertically. Remote controllable via an external optional unit such as a foot switch.
DIGITAL ZOOM
Max. 4x zoom is available.
SCENE FILE
Each correction/function setting (four positions) can be saved and loaded easily.
LEVEL INDICATOR
Video level can be checked and adjusted using a level indicator.
ANTI-BIOTIC COATING (ANTIBACTERIAL COATING MATERIAL)
The camera-head and CCU (camera control unit) use an antibiotic to help to improve infection control.


DOWNLOAD PRODUCT BROCHURE

(1.1 MiB)

DOWNLOAD CATALOGUE MEDICAL 2017-2018

(993.8 KiB)

DOWNLOAD RATINGS/PERFORMANCE

(2.0 MiB)