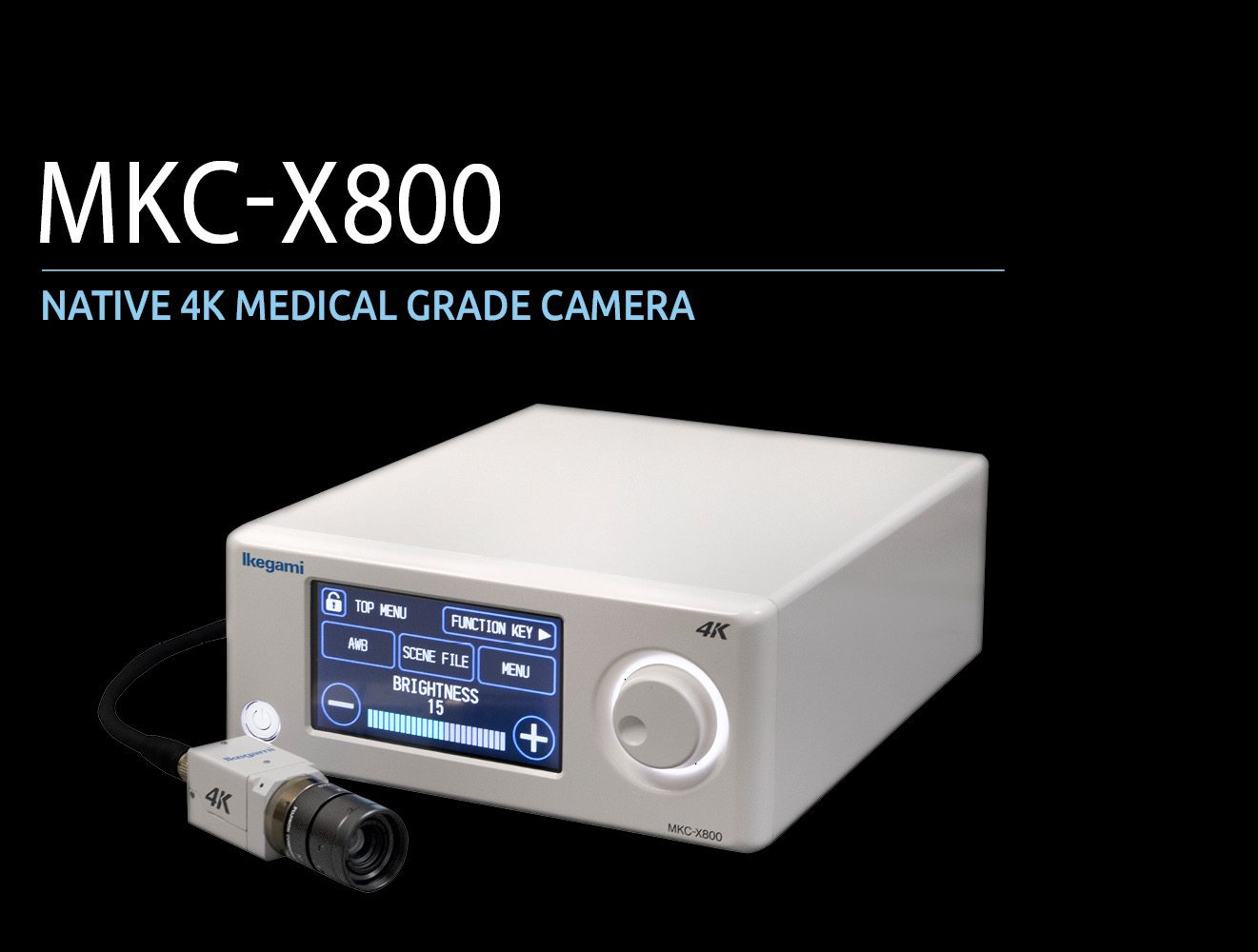 MKC-X800 is the beginning of Ikegami's new camera generation for 4K resolution. MKC-X800 is a 4K-native progressive-scan 1-CMOS model with an ultra-compact head designed to be operated from a remote CCU. Features include ultra-high resolution, sophisticated GUI and single cable 4K output.
Excellent Image Quality with 4K Native Sensor
Touch Panel and Sophisticated GUI
12G-SDI Output Possibility
You want further information?
Feel free to contact us.
Service-Hotline: +49 (0) 2131 1230
E-Mail: medical@ikegami.de
Contact Form

EXCELLENT IMAGE QUALITY WITH 4K NATIVE SENSOR
The 4K native sensor provides excellent video Image quality. It produces superb resolution (1800TV lines horizontal resolution) and low picture noise (58dB S/N).
TOUCH PANEL AND SOPHISTICATED GUI
Ikegami has developed a sophisticated and userfriendly new GUI design for the CCU (Camera Control Unit) touch panel. The GUI provides easier understanding and easier operation.
12G-SDI OUTPUT POSSIBILITY
MKC-X800 provides 4K Output in 12G-SDI. This Signal Format comes from the professional broadcast sector and allows 4K connection over a single coax cable for long distances (Maximum 50m) without signal quality loss.
HDR MODE
HDR Mode delivers wide dynamic range reproduction of the video. This function ensures that high quality display extends both to dark and bright area of the Image.
VARIOUS IMAGE OUTPUTS
MKC-X800 provides various 4K outputs as 12G-SDI (or 3G-SDI x4) or HDMI2.0. 4K and HD (1080p/1080i) images can be output simultaneously. It also matches the existing HD system.
MULTI-LANGUAGE SUPPORT
As a state-of-the-art global medical device, the camera's GUI and OSD menu both support English, German, French and Spanish multi-language.
DIGITAL ZOOM
Electronic zoom for the center of an image is available, up to four times.
COLOR CORRECTION FUNCTION
The color correction is much easier by using the newly designed rotary switch. The precise color adjustment is also available by tuning 16 axes of the color gamut in both hue and saturation.
VERSATILITY
Line Mix Mode can increase the sensitivity to two times while maintaining 1800 TV lines of ultra high definition video resolution. By activation the High Sensitivity Mode, total sensitivity can be enhanced as much as four times greater than normal. Not only for normal operations, but also suitable for light sensitive situations.


DOWNLOAD PRODUCT BROCHURE

(3.1 MiB)

DOWNLOAD CATALOGUE MEDICAL 2017-2018

(993.8 KiB)