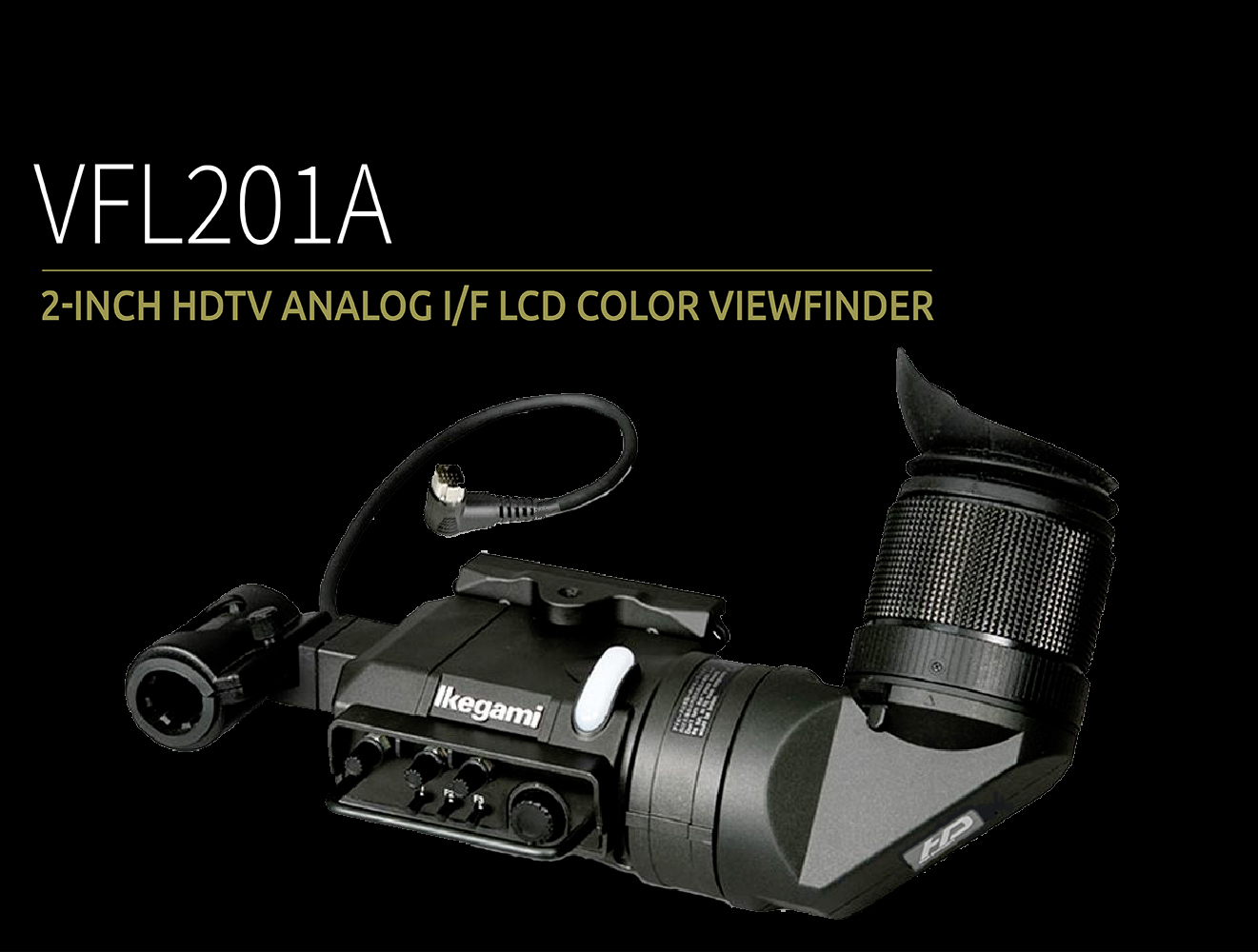 VFL201A is a 2-inch LCD viewfinder developed for HDTV. It has a high resolution QHD LCD with 960 (H) X 540 (V) pixels. It is possible for users to confirm high resolution video with the full color. It has been developed as a successor to the VFL200HD which had been used for our UNICAM HD camera series. By improving its functions and operation, it achieves the performance required for a viewfinder for broadcast cameras.
The LCD with the heater is used
Abundant peaking features
Image magnification display feature
Full-color display of 16.7 million colors
Abundant markers with shadow
Touch sensor function
You want further information?
Feel free to contact us.
Service-Hotline: +49 (0) 2131 1230
E-Mail: broadcast@ikegami.de
Contact Form

THE LCD WITH THE HEATER IS USED
A transparent heater is installed right under the liquid crystal layer. The ambient temperature can be detected and the image without deterioration due to the low response speed at the low temperature can be observed.
ABUNDANT PEAKING FEATURES
This viewfinder supplies the abundant peaking features, "ZOOM UP PEAKING" which is synchronized with the camera zoom operation and "COLOR PEAKING" which can add the color on the peak signal, which support the good adjustment of focus.
IMAGE MAGNIFICATION DISPLAY FEATURE
This viewfinder can display the magnified image and support the accurate focusing.
FULL-COLOUR DISPLAY OF 16.7 MILLION COLOURS
16.7 million colours (8bits colour) are achieved by a full-colour display and a high definition image is supplied.
ABUNDANT MARKERS WITH SHADOW
In addition to the area marker, center marker, shadow feature and cross hatch marker, there are 6 (maximum) user markers for each scene, on which users can set them freely. And also, 5 this kinds of scenes are prepared.
TOUCH SENSOR FUNCTION
It detects as soon as a FUNCTION switch is touched, and it displays the function name of the touched switch on the screen. (Patent pending)
ACCESSORIES
The following Options are available for the product. The "Offset hardware", by which you can adjust the position of mic holder, is supplied for each mic holder.
Mic holder Type No. XM-164 (Small antivibration / 21)
Mic holder Type No. XM-174A (Large antivibration / 19-21)
Mic holder Type No. XM-254 (Large / 19-26.5)


DOWNLOAD UNICAM HD CATALOG 2019

(3.1 MiB)

DOWNLOAD RATINGS/PERFORMANCE

(1.3 MiB)